FREE Real-Time Hong Kong Futures/Options Prices Feed for Excel
If you are already enjoying FREE Real-Time Hong Kong Futures/Options Prices streaming from your broker through their trading software (SPTrader/SPSystem), you can purchase our special software at a small one-off software license fee to export that price streaming to your EXCEL spreadsheet or Multichart for your own calculations and analysis. We support both DDE (Dynamic Data Exchange) and OLE technologies with EXCEL. We also supports various DDE clients (e.g. Multichart and MetaStock) besides Excel. Access to SP Native API is not needed!
To feed our DDE data into Metastock, you need a sofware called "MetaServer RT for Universal Windows DDE" Their web site is: http://www.traderssoft.com/ts/msrt/

To feed DDE data into Multichart, use its Universal DDE function. For instruction click here. Remember, when you are testing whether the DDE work, in Universal DDE, you enter:
TRADE is =SP|'HSINF1'!LASTPRICE
PRice is also =SP|'HSINF1'!LASTPRICE
SIZE is =SP|'HSINF1'!LASTQTY
BID is =SP|'HSINF1'!BID
ASK is =SP|'HSINF1'!ASK
After you test and the feed is updating normally, you should replace the 'HSINF1' with *
since Multichart only needs to know the structure of your DDE formula.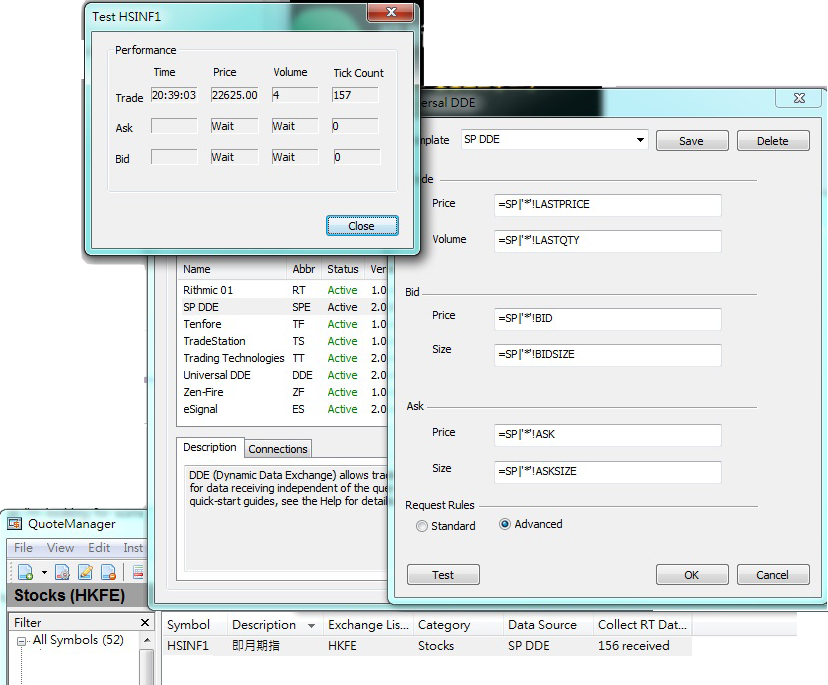 You will specify the actual stock/future ID outside of this DDE template. Multichart will later replace that * with the actual stock/future product ID. Note: some user has mentioned that they need to keep the Multichart's Data Source's TEST windows open in order to keep the data coming without interruption.

If you want to do real-time analysis on Hong Kong Futures/ Options prices in Excel, Multichart or Metastock, you would like to use our software. Our software provides DDE feeds of real-time quotes and done trades (tickers) price/quantities and also High, Low, Open and Close of each minute which will fill a user-defined Excel cell ranges in your spreadsheet for your own analysis and chart plotting. If you need FREE HK Futures Feed into MetaStock, our software is your answer.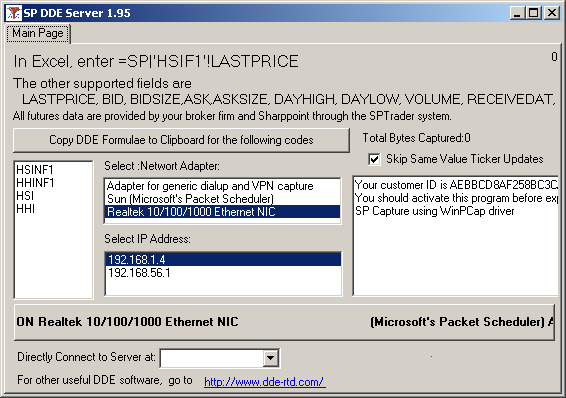 Send us an email to ask for a
BASIC FREE TRIAL at inq@dde-rtd.com
PLUS FREE TRIAL at inq@dde-rtd.com
PRO FREE TRIAL at inq@dde-rtd.com
| | |
| --- | --- |
| Futures/Options DDE | Price (HKD) |
| Basic version: HSI, HHI indexes, HSI, HHI Futures & Options | HKD880 |
| Plus version: HSI,HHI indexes, HSI,HHI, MHI, MCH Futures & Options | HKD1680 |
| Pro version: All products provided by your broker | HKD2280 |
Now, with the launch of SP Native API in 2014 by many brokerage firms in HK, there is a better way to Connect to SPTrader.
Click here to see the new software.